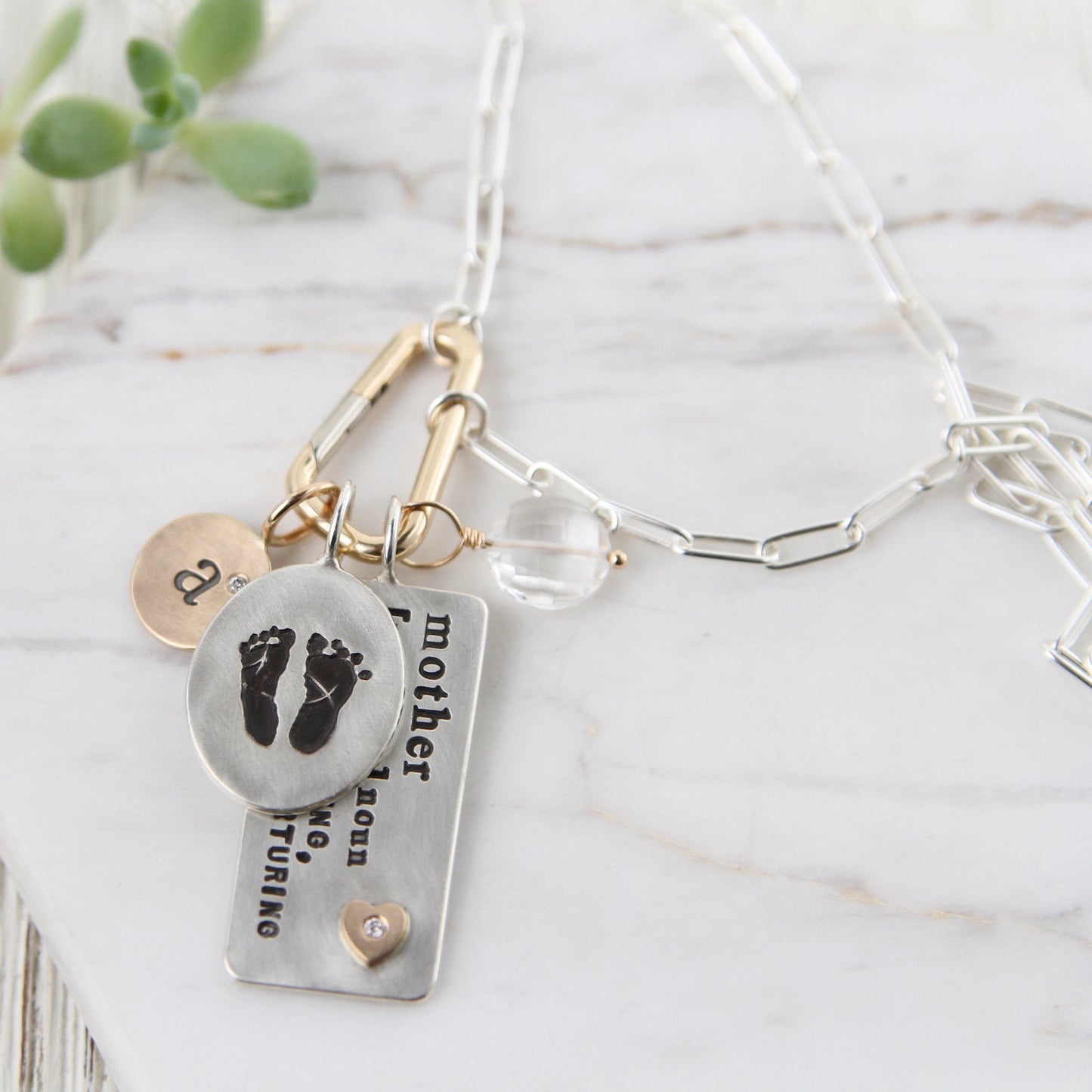 As we approach this special holiday in honor of moms, we've gathered up some of our top collections for gifting this season. Check out these links to shop jewelry by your favorite artist, or find some inspiration in these pairings of pieces that would make lovely sets for gifting!
ANNE SPORTUN
A modern organic 18K gold line we have carried for years.  Our most popular offering in this collection are Anne Sportun's wrap bracelets, which can also double as a necklace.  With beautiful semi-precious stones in a variety of colors,  they are an extremely versatile piece that can be layered, and charms may be added to it as well! Makes it a perfect gift for Mom.  Shop her collection HERE.
HEATHER B. MOORE
If you want to give Mom a gift that has special meaning and will last for generations, then look no further.  Heather B. Moore's charms are of impeccable quality with the most wonderful sentiment.  From initials to birthstones to words of love, you will most certainly find a special gift for Mom in her collection. Shop her charms and chains HERE.
ZOE CHICCO
A fun and simple collection of 14K gold jewelry in trending styles, Zoe Chicco makes a lovely gift for Mom.  We enjoy adding her charms to Anne Sportun's wrap bracelets or building special charm necklaces using her chains.  If you have a Mom who likes to stack her earrings - Zoe has lots of fun, single stud earrings she will love.  Shop Zoe Chicco's collection HERE.
CHAN LUU
Chan Luu is the queen of layering and wrap bracelets!  Chan Luu designs combine cultural elements found worldwide with a modern California influence to create the signature Chan Luu style.  Shop Chan Luu's collection HERE.
ADEL CHEFRIDI
A line growing in popularity at Dandelion, this collection has been difficult to keep in stock!  Adel Chefridi's pendant necklaces make a wonderful gift either in Sterling Silver, 14K gold, or in the ever-popular mixed metal designs.  His dot patterning and use of glowing semiprecious stones make each piece a work of beauty in its own right.  Mom will love any of his pieces. Shop the Adel collection HERE.
CHRISTINA KOBER
Delicate sentiments stamped in sterling silver makes a lovely gift for Mom. The simple and intentional designs are perfect on their own or easily mixed with your other everyday jewelry.  Shop Christina Kober's Collection HERE.
SHERRY TINSMAN
Local silversmith Sherry Tinsman creates the most wonderful high-polish silver designs. Inspired by various floral motifs and simple geometric designs, her pieces are all handcrafted in Bucks County, PA. Shop her collection HERE
AYALA BAR
Bright and cheery colors are perfect for the brave, fun, and bold Mom.  Ayala Bar is handmade in Israel using a variety of mediums, from fabric to crystals. Shop Ayala Bar's Collection HERE
SILVER SEASONS
This distinctive botanical collection is so well-loved at Dandelion. Handcrafted in New York using casting methods and beautiful patinas, these pieces are timeless & lovely. Shop Silver Seasons Collection HERE
ROGGIO
Roggio Jewelry is handcrafted by the dynamic duo of Susan and Victor Roggio in Bucks County, PA. Using mixed metals and interesting textures, their pieces are lively and unique. We love them! Shop Roggio HERE
COEUR DE LION
These eye-catching pieces are handcrafted in Germany from materials such as gemstones, Swarovski crystals, and stainless steel. Modern and unique, they add just the right amount of sparkle and pizzazz.  Shop Coeur De Lion HERE
KELIM
Sterling silver finished with fine silver in a matte finish gives these designs their uniquely glowing, pearlescent look. They are handcrafted in Turkey and we love their motifs ranging from geometric patterns to soft, floral-inspired designs.  Shop Kelim Collection HERE
JULIE VOS
Julie Vos's jewelry is designed and handcrafted to the standards of fine jewelry. Made of semi-precious stones, pearl and imported glass, handset in 24k gold plate over nickel-free brass and sealed to prevent tarnish.  Shop Julie Vos's Collection HERE
LA VIE PARISIENNE
Brand new to the Dandelion family of artists and designers, this French collection has been an instant fond member.  The elegant designs are rendered from the original molds that were created by the artists of the celebrated jewelry period from 1900 through the 1930s.  Shop La Vie Persienne HERE
CARDED NECKLACES
We have a lovely collection of necklaces on sentimental cards from two local artists, which are an ever-popular gift.  We have highlighted special ones for moms, but there are more HERE