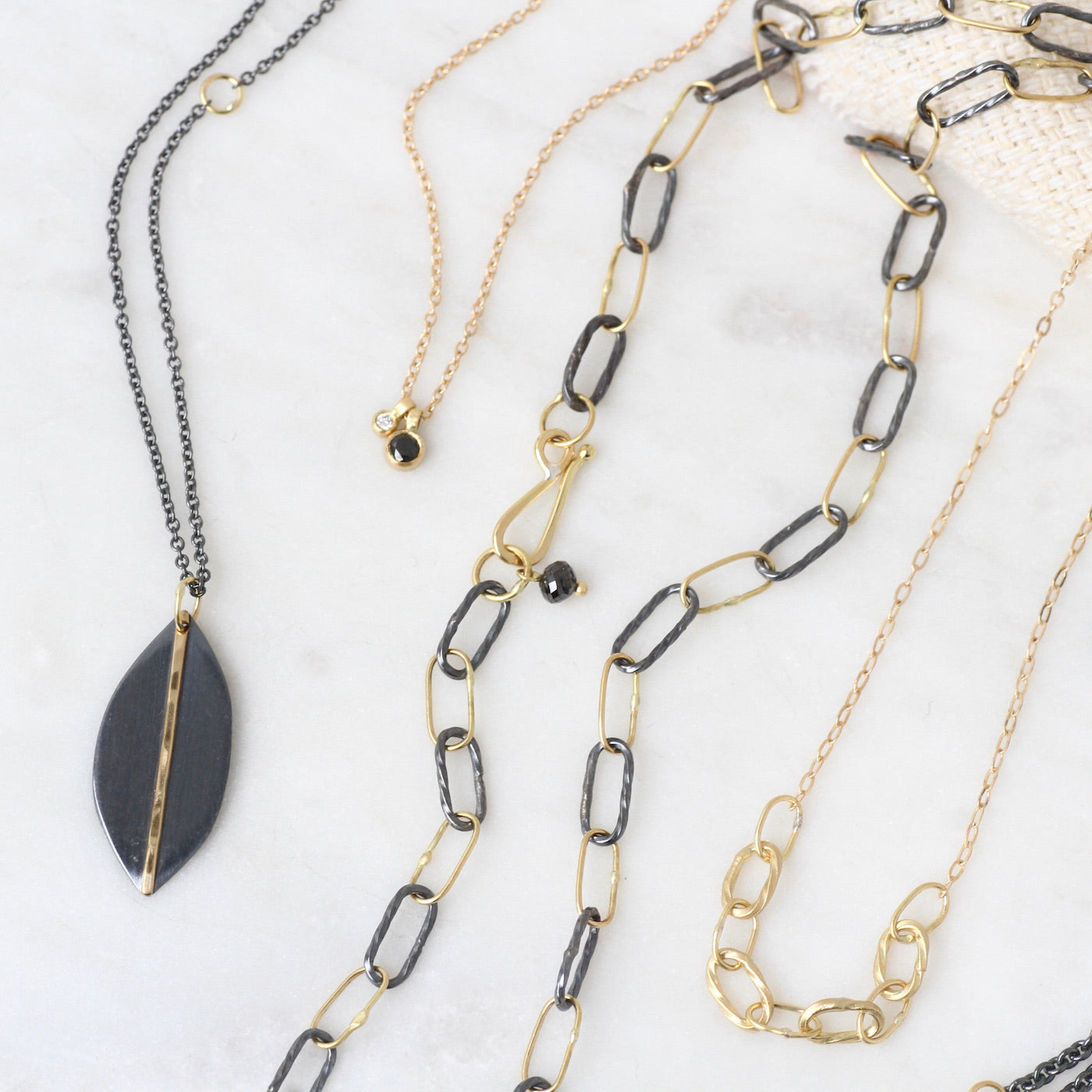 We are thrilled to bring you the beautiful jewelry of Sarah McGuire Studios, brand new to the Dandelion collection! We love the unique designs of these timeless pieces of modern fine jewelry. Their incredible handmade details set them apart and invite a closer look at every surface and connection.
About Sarah McGuire
"Jewelry designer and metalsmith Sarah McGuire finds inspiration in organic forms, manmade curiosities and classic modernist design. Growing up in New England, Sarah spent her summers on the beaches of Cape Cod and coastal Connecticut, collecting objects and absorbing the landscape that would later inform her work as a jeweler. She graduated from Parsons School of Design and spent over a decade in New York before moving to Chicago.
From her timber-loft studio, the designer and a small team craft each piece of jewelry by hand. Sarah uses recycled metal – primarily high-karat gold and sterling – mixing it with linen, leather, rough gemstones and diamonds."
Jewelry Care
Sarah McGuire Studios does not recommend the use of chemicals, commercial cleaners or polishing cloths as they can alter the finish of your jewelry. They strongly recommend removing your jewelry before bathing or swimming.
Silver 
Sterling silver will tarnish over time. Our favorite silver polish is white toothpaste. Apply with fingers, a soft cloth or an old toothbrush and rinse thoroughly with water. Most of our jewelry has a satin finish. Over time and with wear, the metal will become increasingly shiny. This is completely normal. If you prefer a more matte finish, you can rub the metal with a grey 3M pad. You may also inquire about sending your piece in for the artist to re-matte your jewelry.
Gold 
Gold can be cleaned with warm, soapy water and a soft cloth. 

Oxidized Silver 
Oxidized (blackened) silver will develop highlights over time. Do not use chemicals, commercial cleaners or commercial polishing cloths as they will remove the blackened finish. Fingerprints can be removed with warm, soapy water or a soft cloth. You may also inquire about sending your piece in to be re-oxidized.