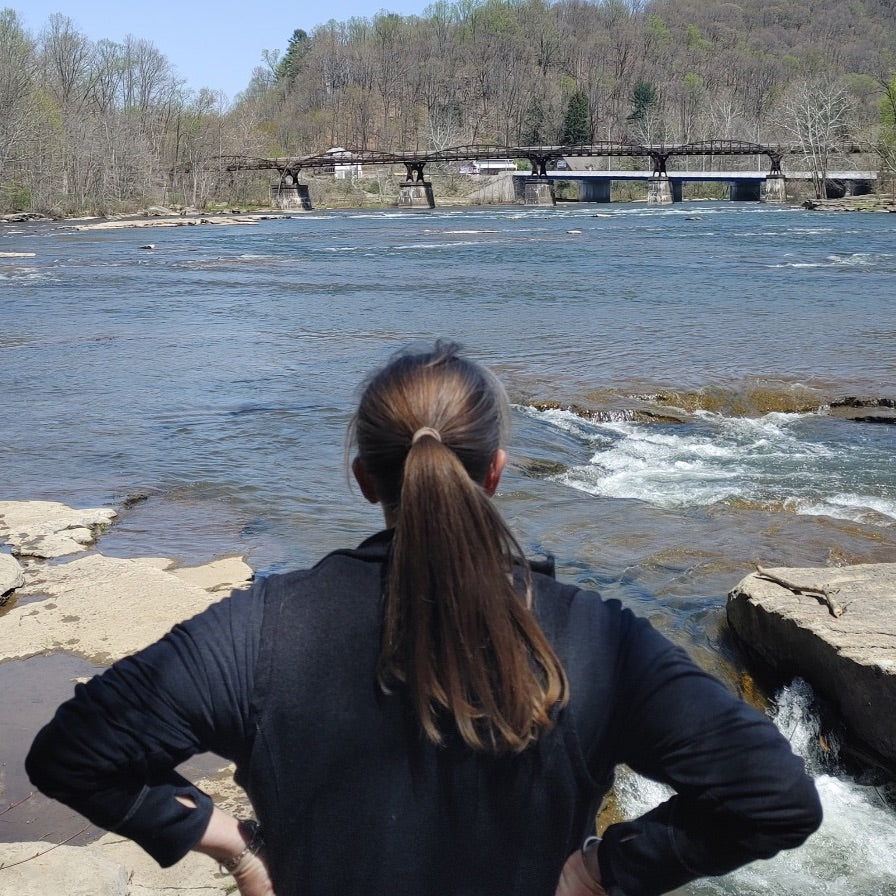 Leslie's Sentiments on Dandelion's Longest Artist Partnerships
Greetings, I am Leslie, sister to Lellie and co-owner of Dandelion. I live here in PA, just outside Philadelphia. I am one of the buyers, along with Lellie and Ani, and travel with Dandelion founder and our mother, Beth, to seek out new and exciting collections. I can be found in any one of the stores, more frequently around busy times, and love seeing customers, some year after year. When not gallivanting around to the stores, I help Ani in the office preparing merchandise to be sent to the stores. 
I enjoy hiking, camping, spending time in our woodshop, helping my husband make beer and boiling maple syrup, or lounging on the beach in Maine.
I am a sentimental fool, and I LOVE jewelry of all kinds, gold, silver, brass, copper, stones, texture, movement, creative art, everything! The whole process amazes me, from selecting and cutting the stones and working metals to the tiny details. Every piece is a labor of love and a work of art. I am forever grateful for the opportunity to share all of our artist's work and their stories.
Being a sentimental fool leads me to share some of the artists that have been partners for years and years. 
Sue and Victor Roggio are talented and quirky...we have known them for as long as I can remember. I recall going to their house as a child and playing in the Tipi (yes, an authentic Tipi) in their backyard. Roggio's jewelry is organic & eclectic...mixed metals, textures, and shapes; two pieces are never quite the same. It reminds me of a walk in the Pennsylvania woods, which are ever-changing, powerful, and elegant.  
 
Jeff Gray's style contrasts with Roggio's, but he is equally talented. I always think of Jeff as a deeply calming person; coming to his booth was a gift in the craziness of a jewelry show. The hustle and bustle would fall away, and there was just handsome, quiet Jeff and his miniature works of art. Jeff's jewelry is cool and sleek, simple from afar, but take a closer look and see the depth of detail. Tiny hammer marks add a subtle texture, a small stamping,  clean lines draw you into the curve of a delicate bezel set stone or the deliberate, elegant swish of an ear wire; every part has a purpose. Just as at home on a camping trip as at a black-tie event, forever a classic.
 
Jill O'Reilly offers yet another twist. Jill's booth is always fun and full of laughter. Sometimes her sister would be there to help her. They would tease each other, "Pick this one. It is my favorite," or "Told you so, see that is a good design." It was always good fun and relaxed, like being in their living room. Jill's jewelry mixes clean lines with a dash of organic texture, drawing from surprising inspiration, like her stone wall cuff. The brilliance of taking the easy classic silver cuff bracelet and adding a twisted vine around it or the graceful arc of gold-filled wire. Jill takes it all to another level.