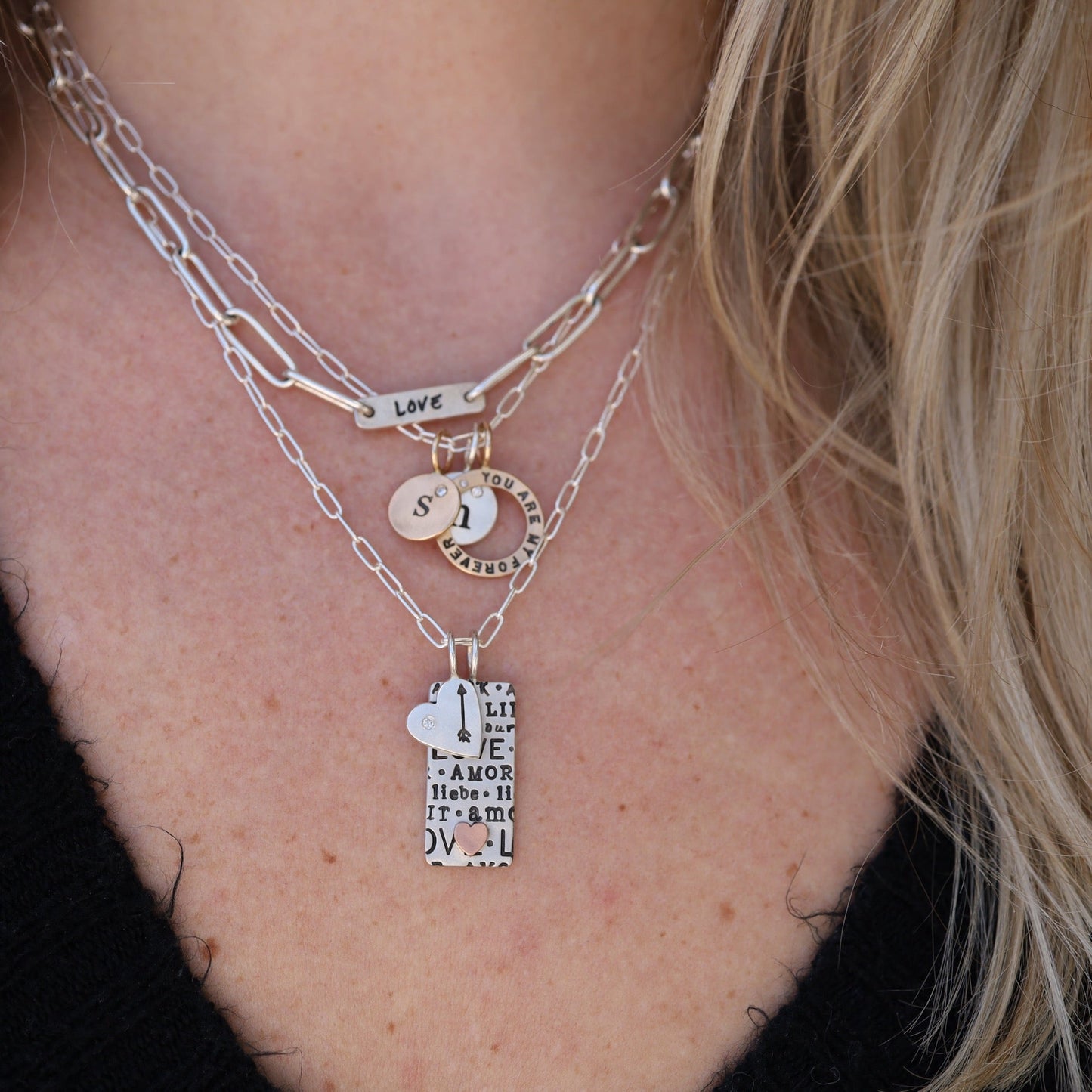 We know jewelry is beautiful, fun, and fashionable, but it can also be deeply meaningful & hold so much sentimental value! Giving or receiving jewelry that was specially handpicked for someone is a great joy and is a very personal gesture. Shop from our "jewelry with meaning" collection to find the perfect gifts for the ones that you love. These symbolic and sentimental pieces will be treasured, for sure!
 
This collection of versatile bracelets, necklaces, and earrings is created with semiprecious gemstone beads and mixed metals. Their meanings are based on the idea that wearing gemstone adornments taps the wearer into the energies from deep within our planet. Each piece comes with its own description of the featured gemstone, making them perfect for gifting! Plus, Scout donates 10% of the net profits to causes that support women. 
These talisman pendant necklaces are made from genuine wax seals from the Victorian era cast in reclaimed sterling silver. Sustainably handcrafted in Vancouver, these necklaces are intended to hold deep personal meaning while capturing an aesthetic of imperfection, character, and individuality. Within the collection, you can find things like a special friendship necklace, a personal reminder to yourself of how much you've grown, or a gift to wish someone good luck and safety. Each intricate pendant comes with a beautiful card to explain the symbolism of the design.
fyb is a collection of demi-fine, 18k gold plated jewelry designed with love in Brooklyn, NY. Founded in 2011 by Chinese-American designer Alyssa Kuchta, fyb jewelry is on a mission to inspire others to "follow their bliss" through uplifting messaging, mentorship opportunities, community building, and spotlighting female roles models. We love their stackable crystal and gemstone charm bracelets with positive and personal messages!
Alef Bet Jewelry, founded in 1996, is created by the mother-daughter team of Paula and Alissa. Their vision is to design modern jewelry with a religious and spiritual feel, that is also fashionable and connects to the wearer. Their beautiful line specializes in Judaic jewelry, hamsas, and evil eyes made in sterling silver, gold vermeil, and sparkling CZ stones.
Robin Haley is a California native who now resides in Nashville, TN. Her pieces are 100% handmade in her Nashville based studio from 14k recycled gold with gemstones such as sparkling diamonds and Montana sapphires. Robin Haley Jewelry is renowned for its ancient and soulful presence. Each artifact necklace comes with a small card to share it's meaning.
"My ancient artifact designs are worn to whisper love into the places of your heart where you need it most and are meant to heal, uplift, and strengthen you. My greatest wish for my artifact collection is that they will go out into the world and help all women understand how deeply treasured and valuable they truly are."
Heather B. Moore is the founder of a beautiful line of custom fine jewelry, handmade in Cleveland, Ohio. Her charms are crafted from precious metals and stones but their true beauty lies in the stories behind the custom pieces. The designs are based on custom-made one of a kind steel stamps which can be created based on a loved one's handwriting, a child's drawing, a meaningful phrase, and so much more. These pieces are true heirlooms! We carry a lovely selection of her signature charms, ready to ship.
Christina Kober Designs is a female founded, run & focused company creating handmade, delicate jewelry in their Georgia studio. Inspired by the idea of telling a story through the jewelry that you wear, Christina set out to design simple but thoughtful pieces, many of which could be customized with an inspiring message.
"We are inspired by what it means to be a woman - confident and vulnerable, strong and sensual, capable and thoughtful. Because some days you feel like a badass woman and others days you need to be reminded of your worth."
---
Necklaces with Meaning Cards
A popular gift for almost any occasion is a delicate necklace presented in a box with a special meaning card behind it. These dainty charm necklaces are handmade locally, either from our own Dandelion collection or from U.N.I. Jewelry of Media, PA. On delicate chains of sterling silver, you will find small charms and gemstones that represent a lovely message which is included with the piece. Each one is thoughtful and delightful!
Shelda Lea's bracelets are handcrafted in Bucks County, PA from semiprecious stones and lava stone beads. These beautiful bracelets tell the story of the healing properties of their gemstones, AND offer the option of adding a couple of drops of essential oils to the lava beads. The result is jewelry that looks good, feels good, and smells good...what a treat!