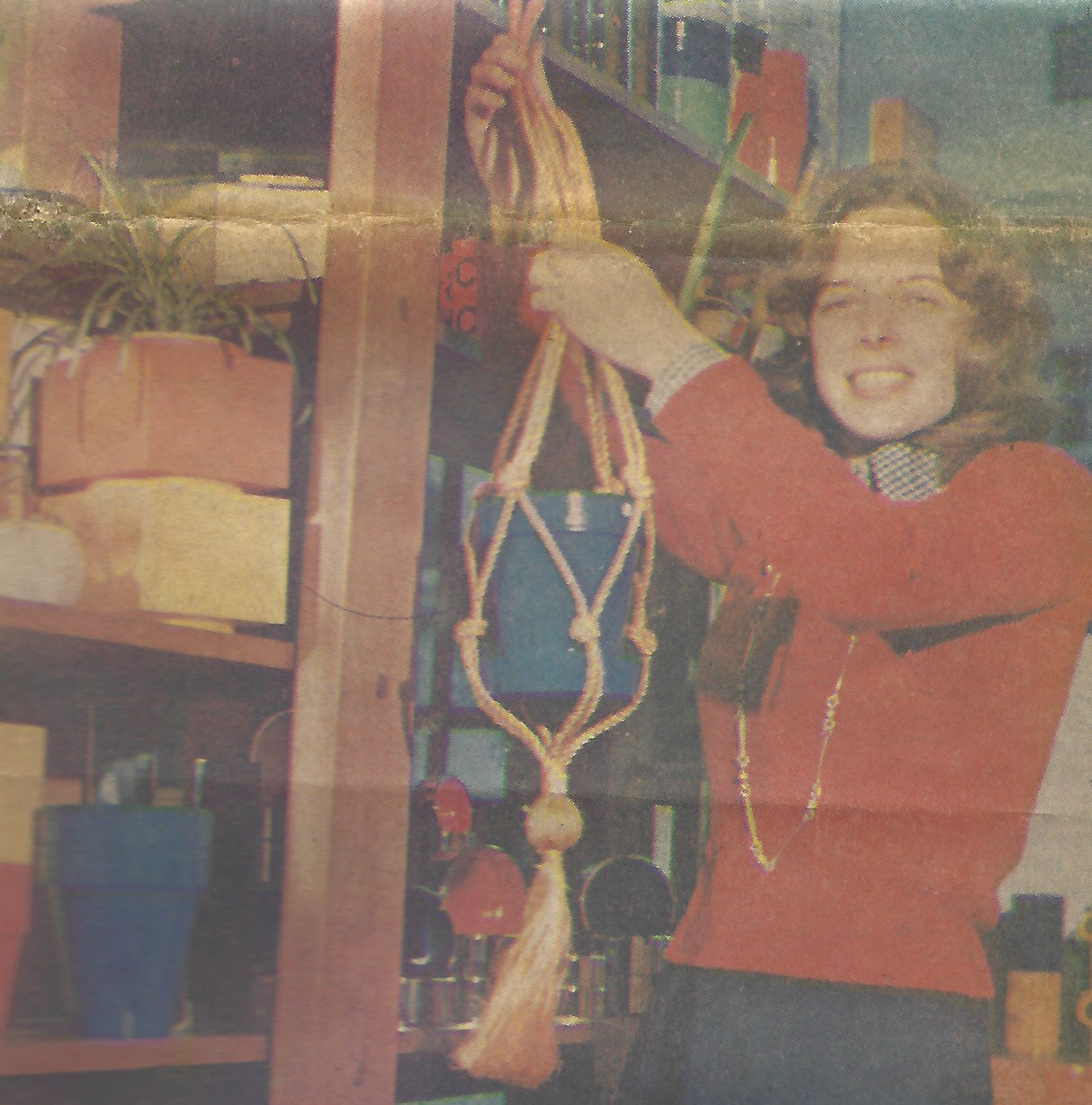 50 Years Connecting Artists With Customers
 Celebrating 50 Years
Saturday, November 30th  (Shop Small Saturday)
Join us to celebrate our women-run family business 50 year anniversary!   We want to thank all of Dandelion's customers for their support with special raffles, gifts, and light refreshments.
This handmade wooden box was designed and made just for our 50-year celebration.  Our gift to you on Small Business Saturday.
Dandelion Historical Reflection
By:  Beth Fluke, Founder
The Summer of 1969 was awesome! We saw the incredible feat of men landing on the moon and the spectacular phenomena of Woodstock. Our 1969 version of Dandelion quietly opened in an old brownstone on the corner of 17th and Locust in Philadelphia.
In 1969, Philadelphia, known as the fourth largest city in the USA, appeared more like a small town. Fine dining was limited to Bookbinders and clubs, like the Union League and the Racket Club. The big chain stores were in their infancy. In 1969, city merchants consisted of department stores like Nan Duskins, Bonwit Teller, B. Altman's and Wanamaker's. The other stores were independent merchants - Toby Lerner, The Pheasant Shop, and The Country Store.  
In West Philadelphia, a store catering to Penn students opened named Urban Outfitters.  Across from Dandelion, a small mutual fund office opened. The sweet men working in the office would sometimes step in, perhaps just to escape their routine and chat. This was the origins of Vanguard.
1969 was the height of hippiedom and in Philadelphia, head shops clustered in two locations: the 2000 block of Samson Street and lower South Street.  Dandelion hippiedom latched onto the back-to-nature theme with a focus on the artsy, crafty movement. 
In the early 70s, there were few wholesale markets, like craft fairs and trade shows, to purchase interesting merchandise. Dandelion relied heavily on individuals bringing their creations to the store. Artists carrying their tenderly wrapped pots, glass, jewelry or whatever, in hopes Dandelion would buy their goods. Even artists from overseas would stop in with their goods from exotic lands. Dandelion would be thrilled to offer these treasures to our customers.
In the beginning, Dandelion had one small case of jewelry. By the mid 70's, the store doubled in size with a complete jewelry department. The buying criteria continued, keep the jewelry honest. If it looks like silver, it is silver; if it looks like brass, it is brass; if it looks like gold, it is gold. This philosophy is why Dandelion has always been trusted.
In the 1970s, there was a strong women's consciousness-raising awareness. There was a mass movement of women no longer comfortable with staying at home relying on their husband's allowance, women wanted their own careers!  Women happily tripped into Dandelion on their lunch hour and giddily removed their mother's earrings and purchased a pair of their choosing with their own money! It was a revolution!
 As the demand for interesting affordable jewelry grew, so did the supply. Peter Luce, a Penn graduate, brought in silver jewelry he was having made in Bali.  Dandelion was his biggest customer. Jeweler David Yurman was making big sculptural necklaces, Dandelion customers bravely purchased the exotic. Students from PCA timidity came in with tiny boxes of their silverwork, Dandelion customers enjoyed the specialness of the limited work.  
Dandelion at 17th and Locust was an intimate store.  As upper rooms became available in the brownstone Dandelion leased the space. These rooms were used in assorted venues. A nursery and playroom for Miss Lellie, a bead store where you were assisted in making your own creation, a store full of Christmas ornaments, a clothing store.  When the Zen meditation studio left the third floor of the brownstone Dandelion office moved into the mellow space.  
By this time Dandelion had expanded into the suburbs, first in Exton Square, then King of Prussia, Suburban Square Ardmore, and Princeton.  We were grateful our customers continued to support us outside of the city. 
Over the years the merchandise has changed as fads, fashion, tastes, and customers change. What hasn't changed is the philosophy, bringing artists and customers together.  As one artist said to us, with a deep bow, "Thank you for selling my work so I can continue doing what I love."
Today, in 2019, Dandelion can be found in Ardmore, Saucon Valley, and Wyomissing, Pennsylvania and Princeton, New Jersey. Join us at any of four locations on Shop Small Saturday, November 30, 2019, to celebrate our 50th Year Anniversary.