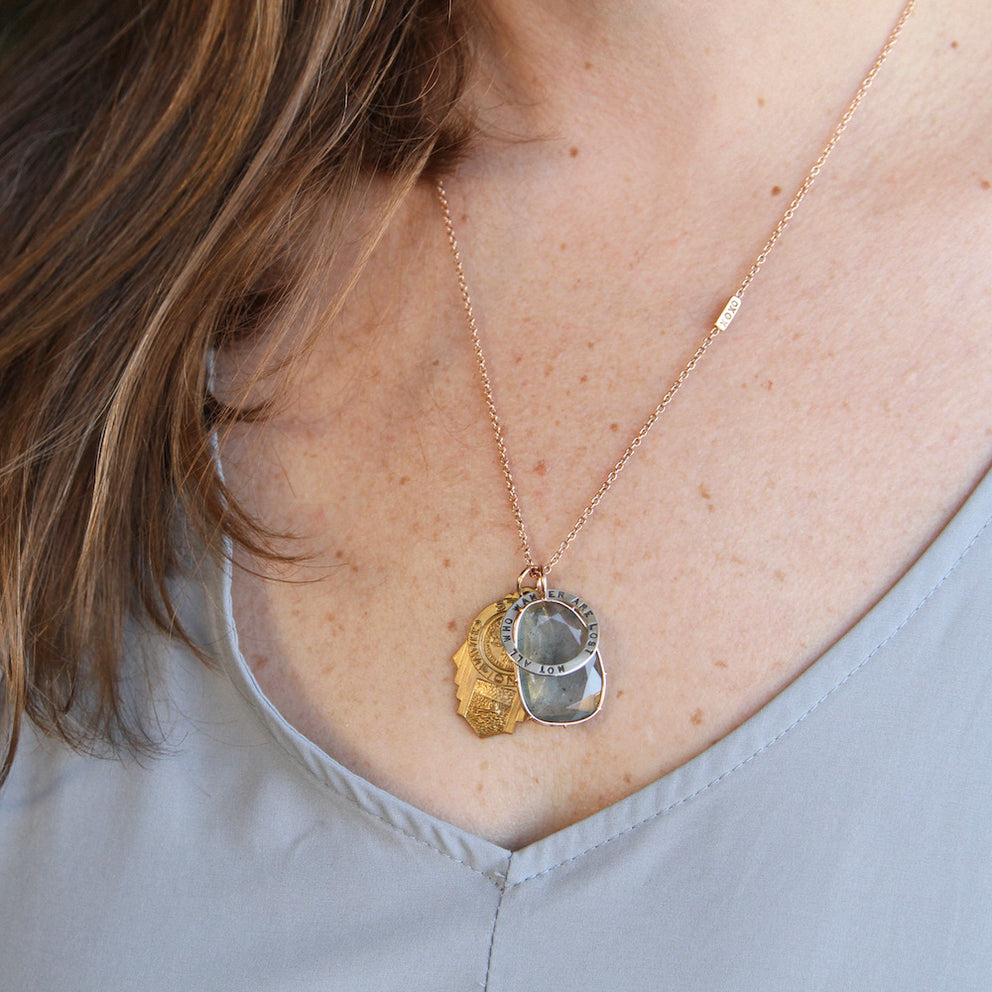 Heather B. Moore: A Minor Obsession
I recall the first time I saw Heather, and her work: the Couture show in Las Vegas. She was in a tiny "emerging artist" booth in the hall. At first look it appeared to be just like a million other vendors who make stamped initial charms. There was something that drew us in for a closer look, maybe it was Heather's smile, her presence, tall, charismatic, beautiful, buzzing with energy. Her passion to take customized pieces to another level, the ability to tell a life story with charms, to make it available to everyone radiated out and drew you in. That is when we discovered the magic. This was not just like every other initial charm; this was special. The weight of the charms, the soft brushed silver with a delicate polished golden frame, the simplistic made extraordinary by attention to detail.
The custom options seemed endless, and a bit overwhelming.
Sadly, we did not commit to an order at the time, but her work stayed with me, and a few years later we finally overcame our hesitation. The collection had grown enormously in that time, from a few sizes of round and oval charms to what it is today.
What has not changed is the attention to detail and Heather's passion for telling a story with jewelry.
My first collection of charms was a gift from my husband for our 15th wedding anniversary. A classic HBM round with our daughter's initial and her birthdate on the back. A large oval with a compass rose and the coordinates of our wedding with the date on the back. A quirky duck, again with coordinates and a date on the back, our first date. My husband is a land surveyor, thus Longitude and Latitude coordinates are very important to him, and he hid a little secret in the locations for me to discover when I looked them up.
Over the years I have added bits and pieces; a silver open heart to add dimension, a single peridot (my husband's birthstone), a tiny tag with 406/MT where we started our life together, and the new carabiner clip.
The moss aquamarine "Harriet" stone reminds me of my mother, as she would randomly call me Harriet, and the color is similar to the green-blue of her eyes.  I added the "not all who wander are lost" ring to it recently, representing my mother's love of travel and exploration, and our adventures buying for Dandelion all over the world.  Just to prove that mixing things up and combining the old with the new is okay, and adds a whole new dimension to everything, I have paired the moss aqua with a gold medal my father won at the State Swimming Championship in 1959.
One of my favorite ways to mix up my collection is to wear my charms with Anne Sportun's infinitely versatile wraps. The oversized bails of Heather's charms slide over the tied bead extender. Then I clasp it so that the extender hangs in with the charms, adding yet another layer of fun.
The "Thankful & Grateful" charm I got during the shutdown last year, to remind myself to be just that, in a time when it was hard to be thankful or grateful for anything but toilet paper and hand sanitizer.
The custom pet name tag with my pup Aqua was done as an example for the store. The stag antler and black rutilated quartz, well they are just too cool not to mix them in.
Then we have the "classic" HBM clean and sophisticated children's name charms. These were given to my sister Lellie by her husband and children for Mother's Day. Each has the name on the front with their birthdate on the back. 
This very sleek, simple and sophisticated classic look is very much in line with Lellie's personal style, in contrast to my mix of sizes, elements, chains, and texture which reflect my tendency towards a more eclectic personal style. A  wonderful example of how HBM can fit into any personal style.
That is the true beauty and magic of HBM: the ability to mix things up, combine textures, and bring in pieces that you cherish, or add a bit of funk or sparkle. I even have added a favorite Sherry Tinsman dogwood earring that has lost its mate. With a solid foundation like HBM the possibilities are endless.
-by Leslie Woodward
Explore the ready-to-ship Heather B. Moore collection or contact us for more information about customization.